08 Sep 2023
The Best-Fitting Dog Beds for Crates
Making sure your dog is happy in their crate is important not just for their comfort but also for their health and safety. A dog crate bed that fits well and provides a soft resting place will make their crate feel more like a safe home.
Whatever reason you're using a crate for your pup, Bronte Glen has the perfect dog crate bedding.
Our vet beds can be used across a variety of surfaces – dog crates being one of the most popular! They're loved by vets, dog owners, and pets alike, thanks to the premium materials we process and manufacture at our mill, making them perfect for your pup's resting spot.
So, what are the best dog beds for crates? Here's what's included in our range...
Bronte Glen Dog Crate Bedding
Although we have various types of crate bedding, they all have one thing in common: comfort.
Our beds are made from high-quality materials, making them the perfect spot for your dog to relax after a long day of playing. Each bed offers its own unique properties, such as orthopaedic support, moisture-wicking capabilities, and more.
'Active' Non-Slip Vet Bedding
Our 'Active' Non-Slip Vet Bedding is the most popular choice amongst our customers for placing in their pet's crates.
The 'active' non-slip backing is woven into the fabric to create a secure, comfortable resting spot for your pup. It helps to stop your dog from scruffing its bed up when it gets excited or moves around too much.
The 100% polyester pile fabric is heat-retentive, allergen-free and non-irritant, making it ideal for sensitive skin.
Shop Active Non-Slip Vet Bedding
Traditional Vet Bedding
Next in our range is the Traditional Vet Beds. These use the same 28mm polyester pile found in our non-slip range but have a green woven backing instead of the non-slip backing.
These are great for your dog's bedding, too, as they provide the same level of comfort and heat retention.
Our Traditional Vet Bedding has an absorbent – yet tough – felt backing, which makes it a great choice for puppies likely to chew and prone to having little accidents. It's especially suited to confined/enclosed spaces, such as crates, where it cannot move around a lot.
Super Gold Vet Bedding
Our Super Gold Vet Bedding uses a thicker polyester pile of 30mm, making it a great choice if your pet needs extra joint support.
Just like our Traditional Vet Beds, the Super Gold also has a tough, absorbent felt backing, which is good for puppies and use in enclosed spaces, like crates.
For pets with strains and pains, providing a thick layer between the hard crate floor and their delicate joints is important. The Super Gold Vet Bedding will help keep your pet comfortable and allow you to rest easy, knowing they're cushioned.
The polyester is also impregnated with antibacterial fibres, so it stays hygienic.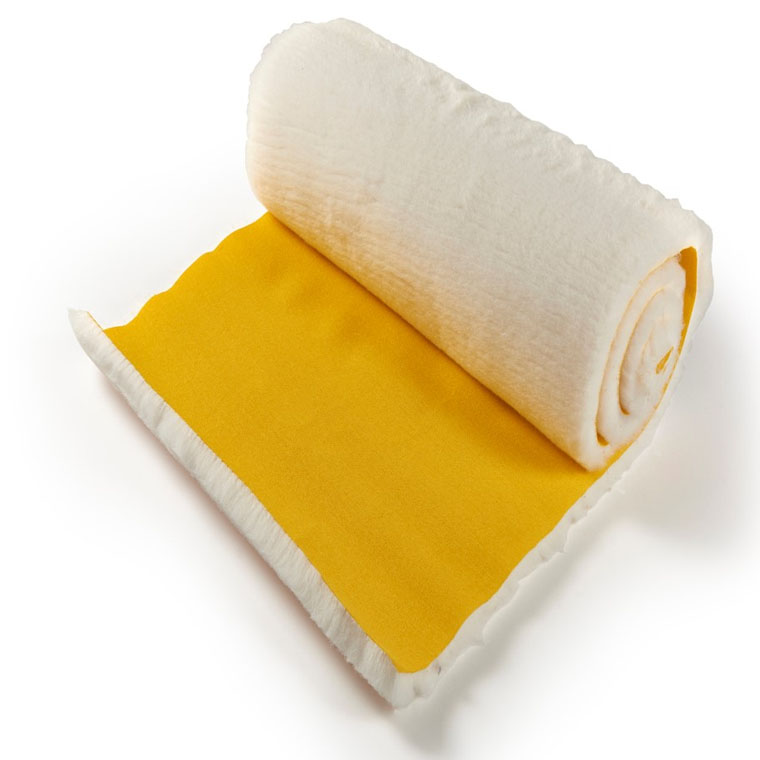 Senior Gold 7+ Vet Bedding
For our more mature friends, the Senior Gold 7+ Vet Beds are the best option. Specially designed to provide extra comfort and support to older pets, the Senior Gold 7+ Vet Beds are soft yet durable due to their clever construction.
The blend of antibacterial wool and polyester fibres creates a thick layer of cushioning that protects your pet's joints and body from hard flooring. These beds also have a non-slip backing.
Shop Senior Gold 7+ Cosy Dog Beds
Bronte Ranger Throw
If your dog tends to scruff up their bed or prefers not to be restricted to one spot, the Bronte Ranger Throw is perfect.
We also recommend encouraging your dog not to sleep on any hard surfaces, whether that's their crate or a floor in your home, because it's not good for their joints, so a blanket can provide some level of protection.
The heavyweight Sherpa polyester pile fabric on one side and a waterproof underside make it ideal for use all around the house, not just in crates.
Some dogs also like to have a blanket covering the top or sides of their crates so they can feel secure and safe, and our Bronte Ranger Throw is great for that, too.
What Size Dog Crate Bed Should I Get?
A dog bed for a crate should fit the space perfectly. Too small and it will be uncomfortable for your pet; too big and you won't be able to fit in inside the crate. For that reason, you need to make sure you correctly measure the size of the crate.
It's really simple – if you don't already know the measurements from when you bought the crate, just take a tape measure and measure the length and width of the crate floor. Then, you can just select the bed size that will fit perfectly inside the crate.
Bronte Glen has dog beds for large crates, medium crates, and everything in between, so you'll have no trouble finding the perfect size. We have various standard sizes available, the smallest being 51cm x 51cm and the largest being 100cm x 150cm.
Bespoke Dog Beds for Crate
If you can't quite find the right size, we can create a bespoke dog bed for your crate. We manufacture all of our dog beds in our mill, so our team will cut the fabric to your exact measurements.
Please get in touch with our team to discuss how we can help!
Does My Dog Need a Bed in Its Crate?
The answer to this question is simply yes. Repeatedly laying on hard surfaces can cause joint issues, and a bed can help to alleviate potential pain.
In the same way that we would probably wake up a little stiff after sleeping on the floor, dogs will, too. A bed provides a much softer and more comfortable place for them to lie down and relax.
It's even more important if your dog already does suffer from joint pain, as a bed can provide relief from the cold and hard ground.
"Dogs recovering from surgeries need a comfortable, soft, non-slip bed that wicks away bodily fluids as they may spend a lot of time resting and laying down whilst recovering.

Older dogs or those suffering from orthopaedic/ joint conditions require a bed that's focused on support.

Puppies need a strong, durable bed that stays in place and keeps accidents away so they can rest and grow comfortably as they snooze. This is why I recommend carefully choosing a high-quality bed to maximise health and comfort depending on your individual dog's needs."
– Lily Richards BSc (Hons) BVSc MRCVS, Veterinary Surgeon and Medical Writer
How Do I Stop My Dog Scruffing His Bed in the Crate?
While dogs certainly should be sleeping on a bed, that doesn't stop a select few from trying to avoid it at all costs!
One of the most common reasons is that they're trying to burrow under the bed as a result of their natural instincts. The best way to stop this is to make sure the bedding material you use is thick enough for your dog not to be able to get its paws underneath it.
Alternatively, you could place a blanket in with the bed so your dog can still burrow under the blanket while still staying on top of the bedding.
You shouldn't turn to punishment if your dog is scruffing its bed in the crate, as this will only make the problem worse. Providing a comfortable and inviting bedding material should encourage your pup to stay on it rather than trying to avoid it completely.
Additionally, making sure that your dog gets plenty of exercise throughout the day can help to tire them out so they're more likely to stay on the bedding in their crate.
Shop the Best Dog Crate Beds at Bronte Glen
Our dog crate bedding provides the perfect surface for your pup to relax and sleep in their crate, taking pressure off their bones and joints.
"In my experience as a vet, and dog owner, I know how important it is to have an excellent quality, well-fitting, easy-to-clean, hygienic, and comfortable bed in their crate.
Whether thinking of poorly patients or my collie dog "Ollie" at home, I know a good night's rest is as important for the health of our dogs as it is for us."
– Lily Richards BSc (Hons) BVSc MRCVS, Veterinary Surgeon and Medical Writer
Our range includes beds for every type of dog, from small to large, puppy to senior, so you can find the perfect bedding for your beloved pet. Plus, they're completely washable, which is ideal for after those messy walks.
Pick from our selection of standard sizes, or get in touch if you need a custom size.
Shop online today!
FAQs
Is it Good to Put a Dog Bed in a Crate?
Yes, we recommend to all dog owners to put a bed in their pet's crate. Repeatedly sleeping on the hard crate floor can become uncomfortable for your friend and might even lead to sore joints.
What Kind of Bedding Do You Use for a Dog Crate?
Vet bedding is a great choice for placing in crates as it's thinner than regular beds but still provides a good layer of cushioning. Bronte Glen Traditional and Super Gold are most popular
for crates, and Active 'Non Slip' and Senior Gold are most popular for open spaces and hard floors.
Should Dogs Have a Bed or Crate for the Night?
The answer to this depends on your dog. Some dog owners find their dogs detest being confined inside a crate, whereas others appreciate the security and safety a dog crate provides. If your pup is uncomfortable with the idea of a crate, then providing a bed would be a suitable alternative.
However, it's important to remember that providing a comfortable sleeping area with plenty of cushioning will help promote better sleep for your friend.
Should I Cover My Dog Crate With a Blanket at Night?
Covering your dog's crate with a blanket can help to provide a sense of security for your pup. Make sure the blanket or throw is large enough to cover all sides of the box.